Dr. Nicolas A. Ravon is an internationally renowned periodontal plastic surgeon whose practice offers transformative and rejuvenating full mouth rehabilitation. Always keeping the patient's desires, hopes, and needs in mind, he is able to create a smile that corresponds to the uniqueness of each patient's physiognomy. Dr. Ravon has dedicated his career to mastering the art of reconstructive smile design through both surgical and non-surgical approaches. His prominence in the field was crowned by his appearance in Lifetime Network's Smile, where he achieved some of the most challenging yet rewarding full mouth reconstructions of his career.
In addition to being a recognized periodontal plastic surgeon, Dr. Ravon is also a mentor at the prestigious Kois center through which he furthers the advancement of periodontal plastic surgery and continually expands his knowledge to provide his patients with the utmost level of care and details. While he was mentored by leading figures in the dental field during his education both in Europe and in the United States, Dr. Ravon has now become a leading figure himself. As evidenced by his various peer-reviewed publications, Dr. Ravon has managed to stay at the top of his field and at the forefront of technological advances. Indeed, he is proud to be one of the first periodontal plastic surgeons in the United States to offer 100% metal-free dental implants. More importantly, by developing and refining surgical techniques that are now used every day in his practice, Dr. Ravon is able to render the treatment process efficiently and seamlessly to his patients.
Excellence In Personal Care
Behind Dr. Ravon's dedication to providing the best dental care available, there lays an equally strong drive to provide his patients the finest personal care.
As a child in his father's dental office, Dr. Ravon witnessed from an early age the profound difference quality personal care made to every patient. This is the human side of dentistry. Following in his father's excellent footsteps, Dr. Ravon considers exceptional dentistry and personal care to be equal and inseparable parts of operating a superior dental practice.
When it comes to caring for one's smile, we all deserve the best. Whether you are in need of preventative care, cosmetic dentistry improvements, implants, periodontal care, orthodontics, or complete dental restoration, periodontist Dr. Nicolas A. Ravon DDS MSD invites you to enjoy the very finest in dentistry, oral health, and personal care – all in a comfortable and soothing environment in Beverly Hills that will have you feeling right at home.
A Lifetime of Dental Health
Dr. Ravon is a periodontist who develops oral health to last a lifetime. To do this we focus on the big picture – your big picture. Dr. Nicolas A. Ravon creates a Personal Treatment Program specific to your individual needs so that working together, we can maintain what is healthy, revive what needs help, fix what needs fixing, and build you a foundation of dental health to last a lifetime.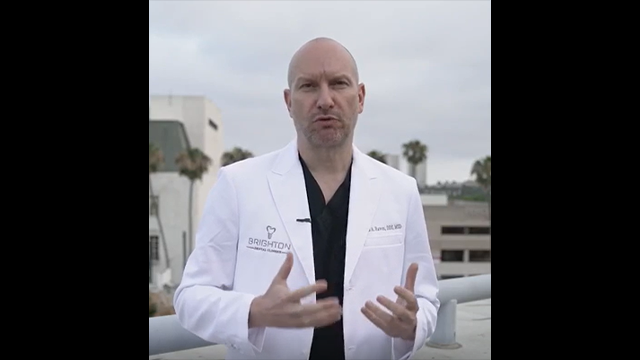 World Class Training. Global Expertise. All In Beverly Hills
The periodontist at Nicolas A. Ravon DDS MSD provides top-level dental expertise. Developed through extensive training in both Europe and America, his unique global acumen enables him to combine the very best of both worlds, and provide you with dental treatments, dental techniques, and advanced dental technologies that are truly the best the world has to offer.
The Latest Science, Technology, and Technique
Even with Dr. Ravon's years of experience, countless hours of specialist training, and multiple degrees, he continues to attend advanced dental seminars and receive training in the very latest diagnostics, treatments, and techniques. To be the best periodontist you can be, one must remain a student forever. Everyone in our office shares the same deep passion for learning and drive to become the very best they can be, assuring that our periodontist will always provide the most exceptional dental care the world has to offer.
What Is a Beverly Hills Periodontal Plastic Surgeon?
A dentist is often known as a "tooth doctor" because that's their primary focus. The name "dentist," even comes from the French word for tooth. So who do you go to when you are looking for someone who specializes in the care of the tissues around your teeth like your gums and jawbone? A periodontist (from the Latin for "around the tooth) is a specialist in treating the gums and other tissues around the teeth. Periodontists receive extensive training in the care of these tissues, including at least three additional years of education focused directly on periodontal treatments of various types.
Among the procedures that periodontists specialize in are:
Gum grafting
Oral surgery
Gum disease treatment
As well as any other treatment of the periodontal tissues.
Dental Implant Placement
Dental implants are designed to replace your natural teeth, but they're not natural teeth. Instead of treating a tooth, the dentist performing the procedure is actually managing periodontal tissue around the dental implant. This is important not only during the placement of the dental implant: it matters long after the initial procedure. The goal is to ensure the best recovery of your jawbone around the dental implant and to avoid recession of the gums around the implant because the dental implant doesn't foster gum attachment the way your teeth did, though metal-free dental implants are better.
A periodontist is ideally trained for placing the dental implant and helping to maintain it to ensure it lives up to its full lifetime.
Gum Grafting
Gum tissue has a limited ability to recover. If you suffer from receding gums due to gum disease, tobacco use, or other reasons, your gums won't grow back. Instead, a gum graft can be used to restore your gums to their previous, healthy, and youthful appearance.
A periodontist knows how to graft tissue from elsewhere in your mouth to ensure that the gum graft looks good, heals properly, and stays healthy.
Oral Surgery
Technically, dental implant placement and gum grafting both fall under oral surgery, but there are also many other types of oral surgery, and a periodontist is often your best choice to perform them. These include:
Oral cancer biopsies
Tooth extractions, including wisdom teeth extractions
Bone grafting
Surgical gum disease treatment
Although many dentists will offer some or all of these treatments, periodontists have detailed training in these procedures and are prepared to handle the most complex cases and complications.
Gum Disease Treatment
Gum disease is when bacteria or other organisms infect the area around your teeth. The damage caused by these bacteria, as well as by your body's response to bacteria, destroys the gum tissue and the bones around your teeth. The result is loose teeth and even tooth loss.
A periodontist can often intervene to stop the progress of gum disease. Next, bone grafting and gum grafting can be used to restore the damage so that your teeth are as attractive and secure as if there'd never been any disease.
Do You Need a Periodontist?
If you are considering any of the above procedures with your regular dentist, you should also consult with a periodontist to determine whether your case would benefit from specialized care.
We're Here To Help.
Questions? Nicolas A. Ravon, DDS, MSD is your partner in dental health. Call us anytime to schedule an appointment with one of our Beverly Hills periodontists at (310) 275-5325. You can also email us.